Arrangement from Thursday 16 to Monday 20 February 2023, 4 nights
Simon Boccanegra
- G. Verdi
, the 17
Jader Bignamini - Vasily Barkhatov
Angel Blue, George Petean, Ante Jerkunica, Samuel Dale Johnson
Deutsche Oper
Samson et Dalila
- C. Saint-Saëns
, the 18
Daniel Barenboim

Child prodigy, virtuoso pianist, Daniel Barenboim (born in 1942) shines on five continents as a conductor and pianist. An excellent teacher and exceptional conductor, Daniel Barenboim has left his mark on the world of classical music since the 1970s. In 1999, his major project of reuniting Israeli and Palestinian musicians, the West Eastern Divan Orchestra, was born. Series of works by Beethoven collected under the title Beethoven for All, then Berlioz's Symphonie Fantastique. In 2014, the conductor with triple Argentinian, Israeli and Palestinian nationality conducts the New Year's Concert in Vienna for the second time. Daniel Barenboim has been at the helm of the Berlin Orchestra since 1992 and his contract is extended until 2027.
Daniel Barenboim

♪
- Damián Szifron
Elīna Garanča

Mezzo-soprano Elīna Garanča was born in 1976 in Riga into a family of musicians. She began her musical studies at the age of 5 at the piano. In 1996, she studied singing at the Latvian Academy of Music, then moved to Vienna and the United States. While still a student, she made her stage debut in 1998 as a quick replacement to play Giovanna Seymour in Donizetti's Anna Bolena at the Opera in Riga, Bucharest and Athens. Elīna Garanča then joined the Meiningen Theater troupe, then the Frankfurt one and finally the Vienna State Opera. In 2003 Elīna Garanča became known internationally by singing the role of Annio in Mozart's La Clémence de Titus at the Salzburg Festival under the baton of Nikolaus Harnoncourt. On the strength of her success, she begins to do a series of roles.
Elīna Garanča

♪
, Brian Jagde, George Gagnidze
Staatsoper Unter den Linden
Daphné
- R. Strauss
, the 19, première
Thomas Guggeis - Romeo Castellucci
Anna Kissjudit, Vera Lotte Boecker,
René Pape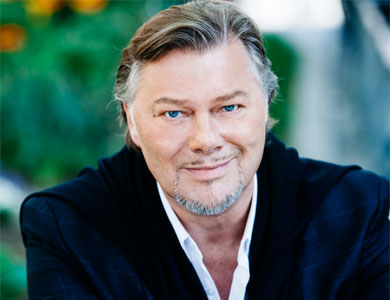 René Pape is a German opera singer born September 4, 1964 in Dresden. René Pape began studying music and singing at the age of 8 in the boys' choir of the Holy Cross Church in Dresden. Then René Pape continued his apprenticeship at the Dresden Conservatory. René Pape made his debut at the Berlin Staatsoper Unter den Linden in 1988, and gained dazzling international recognition in 1991, when Sir Georg Solti gave him the role of Sarastro in a production of The Magic Flute, a role he sang again. the same year at La Scala in Milan under the direction of the same conductor. René Pape performs regularly in major opera houses, concert halls and symphony orchestras around the world, as well as opera festivals such as Bayreuth, Glyndebourne, Lucerne, Orange, Salzburg, where he is conducted by the greatest conductors of orchestra.
René Pape

♪
, Linard Vrielink
Staatsoper Unter den Linden